Ready to log in? Click here to go to Login page.
What You Can Do with
"T&D WebStorage Service"
The Dashboard
The Watch List allows you to monitor the devices you have registered. Up to 18 devices can be registered.
Click "+" to open the Watch List Settings window.

Select the device and click "Add".

The device has been added to the Watch List. To remove from the list, click "-" in the upper right corner of the box.
Data View
You can visualize the data in a list or graph. "Cluster View" allows you to view devices in cluster group.
It is also possible to compare data of multiple devices on a graph.
Feature to overlay multiple graphs in one window.

Monitor selected devices in Cluster View.
Device Settings
You can check (or change) settings information such as the device name, recording interval, and upper/lower limit.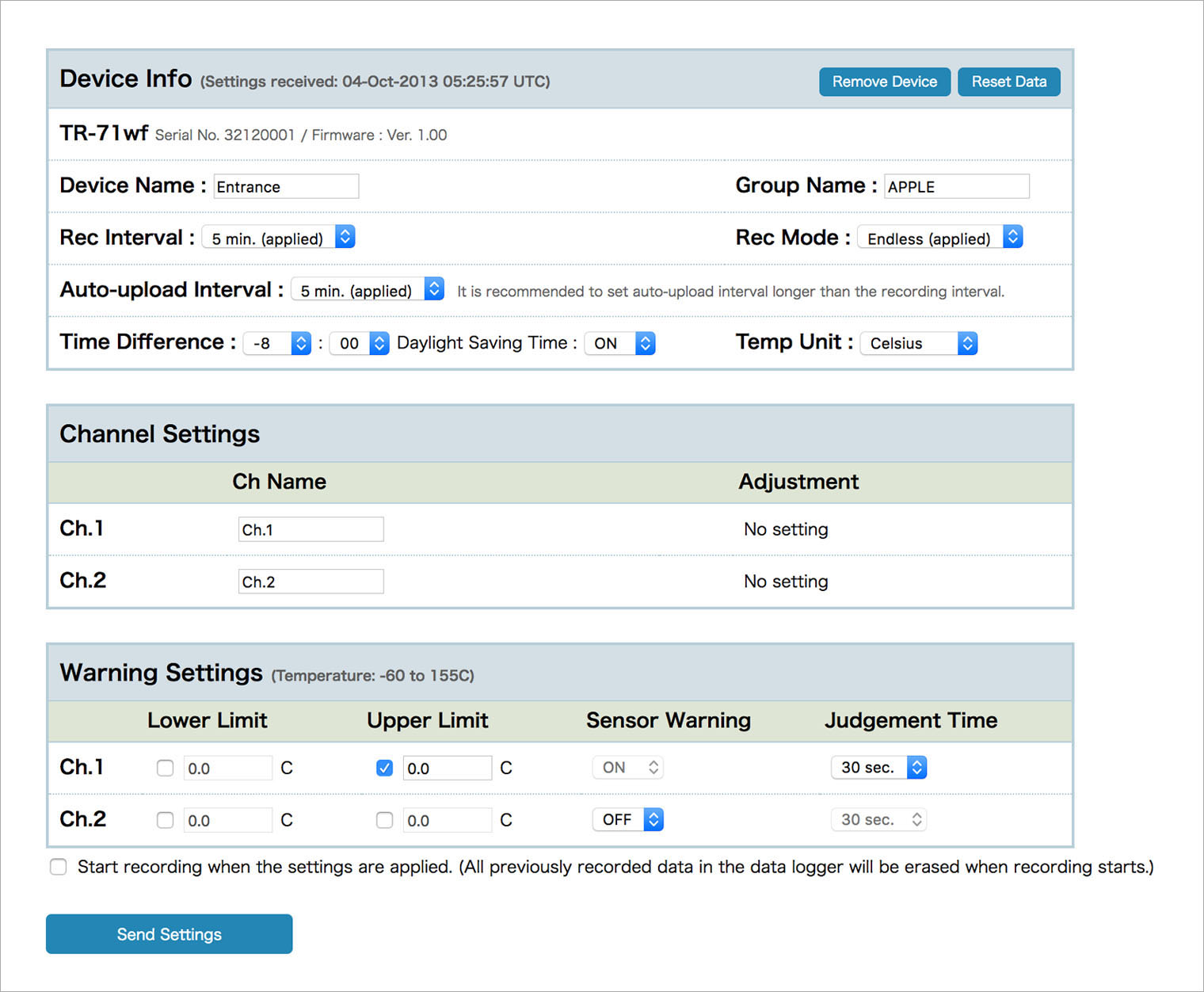 EX : TR-71wf (Setting items vary depending on the product model)
Alert View
When alert conditions are detected on the configured devices, the Alert Notification Box will appear as shown below. Clicking this box will take you to the Alert View, where you can check details of current alerts, recovered alerts, and the alert log.
By clicking "OK" for the alert (current or recovered), it will be moved to the "Alert Log" and will no longer be displayed in the Alert Notification Box.
Display in the Alert Notification Box and on the Alert View Menu.

"My Alerts" Tab: Check the details of current alerts (in red) and recovered alerts (in blue).

"Alert Log" Tab: The checked alerts will be moved here.
Account Management
You can check and change various settings for your account, such as the registered email address and password.Also, the "Read-Only ID" which provides read-only access to data can be created here.
Data Download
You can download recorded data as well as delete from the WebStorage server.